This week, Congress is expected to pass the second continuing resolution of the year, keeping the federal government operating until late April and avoiding a government shutdown.
The bill released late Tuesday would provide $1.070 trillion in base discretionary funding as well as an additional $10.1 billion for Overseas Contingency Operations (a defense supplement), $4.1 billion for disaster relief, $170 million to address the drinking water crisis in cities such as Flint, Michigan, and $872 million to fund the recently passed 21st Century Cures Act.
The bottom line with this legislation is that while it is better than passing yet another massive omnibus spending bill, it still spends too much money and has way too many budget busting add-ons.
Congress should reject this bill and revert back to the lower discretionary cap level for 2017 set by the Budget Control Act in 2011. It is past time for Congress to start showing restraint and abiding by its own spending rules.
Considering that Congress could have decided to pass a bloated, full-year spending bill in the midst of a lame-duck session, this short-term spending proposal should be seen as a win for conservatives.
By delaying major action well into next year, this ensures that members of Congress who are retiring or have been defeated and are no longer accountable to their constituents won't be making long-term funding and policy decisions. It will also give the incoming Trump administration input as to how funding will play out the rest of the year.
While the bill is a victory in this regard, it still has its share of pitfalls.
First of all, the proposed bill spends too much money. Due to spending gimmicks passed as a part of last year's omnibus appropriations act, which funded the government for 2016, staying at the current spending level would require an extra $10 billion in funding above the amended fiscal year 2017 budget cap.
Furthermore, Congress is setting itself up for a budget cliff at the end of fiscal year 2017. Because of the Boehner-Obama deal that was passed in October of 2015 (with the support of only 79 House Republicans), the spending caps were raised for fiscal years 2016 and 2017.
In fiscal year 2018, spending is set to drop back down to the Budget Control Act level of $1.064 trillion—$6 billion below the fiscal year 2017 cap and $16 billion below what the Congressional Budget Office estimated was needed to maintain current spending levels.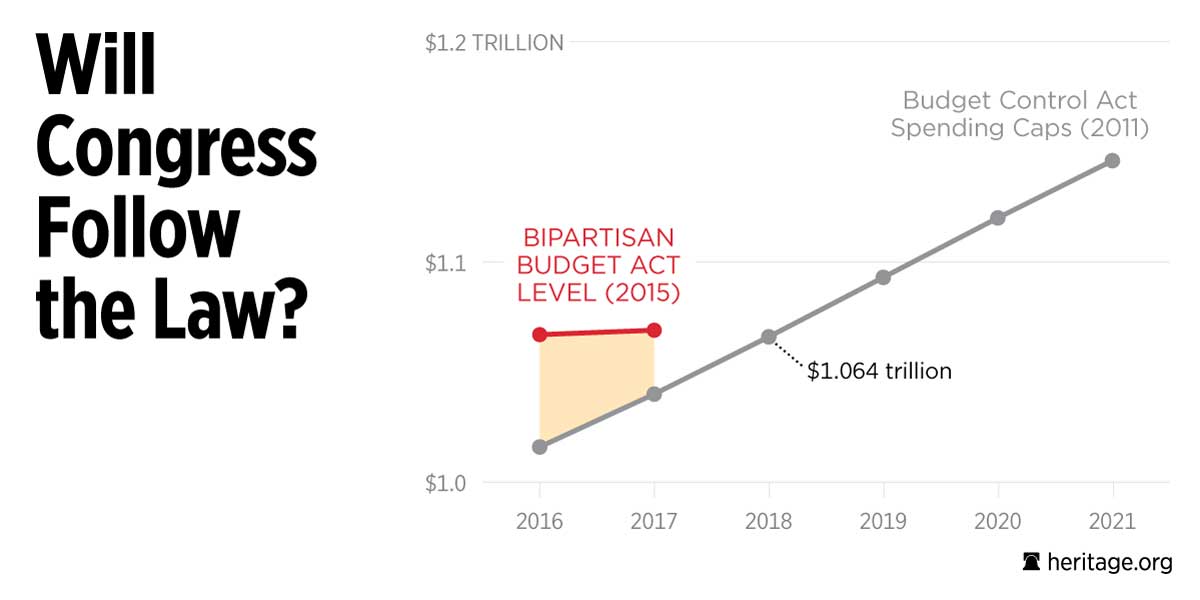 Congress should take this opportunity and reject the Boehner-Obama deal once and for all and revert to the original Budget Control Act post-sequester spending cap level of $1.040 trillion for fiscal year 2017.
Otherwise, at the end of the year, we'll see yet another push by both Republicans and Democrats to revise the Budget Control Act and increase spending for fiscal year 2018, and probably beyond.
So far, Congress and the president have already busted the agreed upon spending caps five years in a row. Each time, the increases in spending have come with promises of offsets in other areas of government, some of which never actually materialize.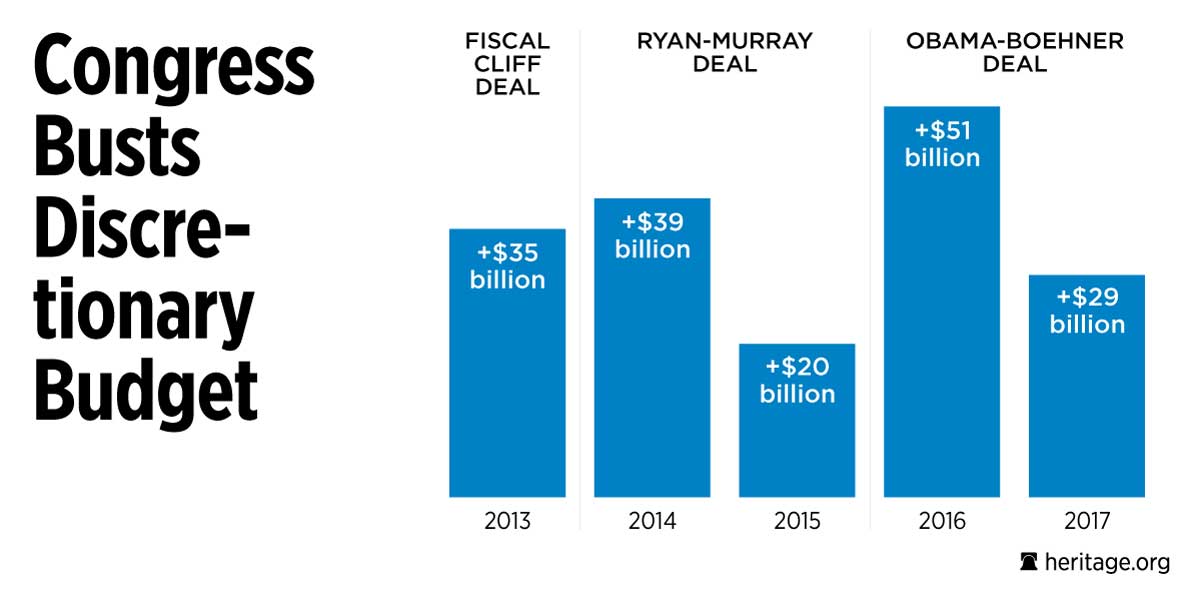 Congress can fulfill those promises by making additional cuts to nondefense discretionary programs while protecting an already depleted national defense from additional cuts.
Earlier this year, The Heritage Foundation published its "Blueprint for Balance: A Federal Budget for 2017," which lays out 110 separate reform proposals that would save $90 billion in 2017 alone.
While Congress should adhere to the caps set in the Budget Control Act, the biggest problem with the current bill is all of the additional spending it calls for that is not even subject to last year's higher spending caps. In total, the bill would provide more than $15.2 billion in spending beyond what is allowed by the already elevated caps.
First, the bill would provide an additional $10.1 billion in Overseas Contingency Operations funding to the Department of Defense and State Department for fiscal year 2017.
While our national defense is of the upmost importance and should be adequately supported, it should be done within the overall discretionary cap. There are other non-essential discretionary programs that should be cut or eliminated to allow for this additional defense funding without breaking the aggregate budget cap.
Next, the bill includes $4.1 billion in disaster relief funding to aid the recovery from Hurricane Matthew and other natural disasters, as well as $170 million in emergency funding to deal with drinking water safety issues in Flint, Michigan. While these may be worthy uses of federal funds, they too should be provided within the base budget.
Each year, Congress adjusts its annual appropriations bills to add additional funding for disaster and emergency declarations. As such, federal agencies should already be able to budget for these recurring costs within their base funding levels, and additional disaster funding should only be provided when the scope and expenses rise above the typical annual costs.
Another major flaw with the bill is that it provides $872 million in new funding for the recently passed 21st Century Cures Act. The issue is not that these programs will receive funding, but that they are not subject to the Budget Control Act caps.
The legislation passed by the House last week was carefully crafted to make sure the new spending stream it created would not be subject to the discretionary spending limits. It essentially created a pseudo-mandatory program and set a troubling precedent for future legislation.
In sum, Congress should reject the numerous add-ons in this bill and should revert back to the Budget Control Act cap level for 2017. This is a critical opportunity for Congress to show that it is serious about breaking with the status quo and getting the nation's fiscal house back in order.