KYIV, Ukraine—A prisoner exchange Saturday between Ukraine and Russia marked a key step toward renewed peace talks between the two nations, which have been locked in a low intensity conflict for five years.
In all, 70 prisoners changed hands, 35 from each camp.
The move, which the Red Cross oversaw, was among the most significant peace overtures since 2014, when Russia invaded and seized Ukraine's Crimean peninsula and then orchestrated a war in the country's eastern Donbas region.

Notably, this was the largest release of Ukrainian prisoners by Russia since the war began.
Among the freed Ukrainians was filmmaker Oleg Sentsov, 41, who spent five years imprisoned in Russia after being arrested in Russian-occupied Crimea and convicted of terrorism.
"Even when the last prisoner is free, our battle isn't over," Sensov reportedly said Saturday upon his arrival in Kyiv. "We are still far from victory."
The freed Ukrainians also included 24 sailors whom Russian forces captured during a November naval confrontation at the Kerch Strait.
Many saw the sailors' ongoing imprisonment as a key sticking point impeding renewed peace talks between Ukraine and Russia.
Later Saturday, Ukrainian President Volodymyr Zelenskyy and Russian President Vladimir Putin had a phone conversation in which the two leaders discussed next steps toward disengaging troops in the Donbas war zone and implementing the operative Minsk II cease-fire.
The two leaders also discussed relaunching the so-called Normandy Format peace negotiation framework, which comprises representatives from Ukraine, Russia, Germany, and France.
Reaction to the prisoner exchange from the U.S., NATO, and Europe was uniformly upbeat.
"Russia and Ukraine just swapped large numbers of prisoners. Very good news, perhaps a first giant step to peace. Congratulations to both countries!" President Donald Trump wrote Saturday on Twitter.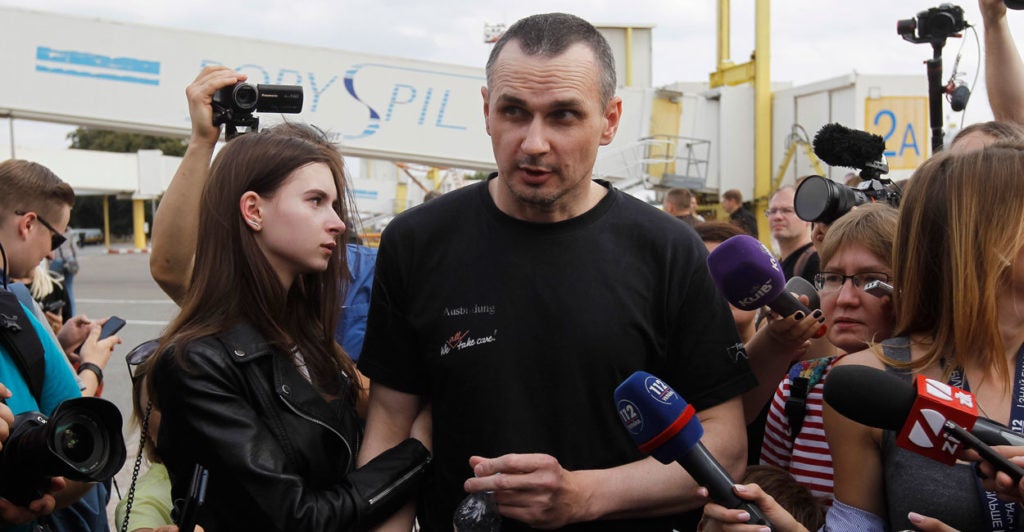 Regarding the prospects for renewed peace talks between the two erstwhile allies in the days of the Soviet Union, Secretary of State Mike Pompeo told The Daily Signal in a recent interview: "We think a good start on that would be to return the 24 sailors who are held."
Pompeo was also optimistic that Zelenskyy could "re-energize" peace negotiations with Russia, telling The Daily Signal: "We are hopeful that new leadership in Ukraine will open a new chapter in this conversation. They can get us to a better outcome … deliver what President Trump has set out as our series of objectives there."
Still, many experts—especially those based in eastern Europe—remained deeply skeptical of Putin's motives.
"The latest Russia-Ukraine prisoner swap is by no means a sign of Putin's retreat in Donbas," Daniel Szeligowski, senior research fellow at the Polish Institute of International Affairs, told The Daily Signal. "Quite the contrary. The Russian president has made this step in order to strengthen his own position in the upcoming negotiations within the Normandy Format."
"Ukrainian authorities have to be aware that Russian concessions—and the swap is a concession on the Russian side—never come without strings attached," Szeligowski said.
Throughout the day, many Ukrainians remained glued to their news feeds as events unfolded. First, news reports said a Russian government jet had landed at Kyiv's Boryspil airport; then came the news that two Ukrainian jets had landed in Moscow.
Around 1:30 p.m. local time, Zelenskyy arrived at Kyiv's Boryspil Airport. Minutes later, a transport jet with Ukrainian national markings landed and taxied to a stop on the tarmac.

The door dropped open and one by one, the 35 freed men came down the steps to meet Zelenskyy. The mood was electric. Families rushed to embrace their returned loved ones. The crowd cheered and applauded.
"We agreed on the first stage of unblocking our dialogue, on the first stage of ending the war, the return of our military, our prisoners, our sailors, the return of our territories," Zelenskyy said.
Televised images of the 35 Russian detainees descending to the tarmac upon their homecoming depicted a notably more subdued affair compared with the celebrations in Kyiv.
"I think that from a historical perspective—I believe this will happen inevitably—bilateral relations will return to normal," Putin had said Thursday about the possibility of a prisoner exchange, according to Russian agencies.
Peace talks between Russia and Ukraine have broken down multiple times over the years. Numerous temporary cease-fires—sometimes put in place for holidays, or for the resumption of the school year—have fallen apart quickly and repeatedly.
Accordingly, the ongoing war in the Donbas tempered many Ukrainians' celebrations over Saturday's good news.

In fact, while the liberated prisoners were disembarking at Kyiv's Boryspil airport, fighting was ongoing about 400 miles to the southeast in the Donbas. Ukrainian troops remain locked in a static, trench war against a combined force of pro-Russian separatists, foreign mercenaries, and Russian regulars.
Oleksandra Tsekhanovska, a research officer at the Kyiv-based Hybrid Warfare Analytical Group, said that seeing the prisoners come home Saturday gave her "overwhelming joy."
However, she added: "I believe that seeing the exchange as a major step towards 'normalization' of relations between Ukraine and Russia is rather premature. There can be no normalization with our territories still occupied and our soldiers being killed—even at the very day of the exchange."
Every day, shelling and small arms gunfights occur up and down the roughly 250-mile-long front line in the Donbas. And casualties continue to mount. On average, one Ukrainian soldier dies every three days in combat.
Ukraine's military reported 14 cease-fire violations by Russia's combined-separatist forces Saturday, citing shelling and small arms fire. No Ukrainian troops were wounded or killed, Kyiv reported.
'Our Fight Isn't Over'
Sentsov's release has been a cause célèbre among Ukrainians for years. The filmmaker's face was plastered on murals, posters, and graffiti images around the capital city of Kyiv, often underlined by the tagline: "Free Sentsov."
In addition to Sentsov and the 24 sailors, the other Ukrainians released by Russia included political activists, journalists, and two agents of the Security Service of Ukraine, or SBU.
Among the Russians released was Volodymyr Tsemakh, 58, a separatist militant allegedly involved in the July 2014 downing of Malaysia Airlines Flight 17 over the Donbas war zone by a Russian surface-to-air missile.
The highest share of casualties among the 298 who died aboard MH17 came from the Netherlands. The Dutch prime minister and foreign minister reportedly opposed Tsemakh's release.
"In the midst of joy we have to remember that the exchange was highly asymmetric. Moscow gave back the people it should never have had in the first place," Tsekhanovska, of the Hybrid Warfare Analytical Group, said.
"In return, [Russia] received criminals and terrorists directly involved in its attempts to forcibly change internationally recognized borders of a sovereign state," Tsekhanovska said.
Bad Blood
The war's first cease-fire, signed in September 2014, immediately broke down. The second, operative Minsk II cease-fire geographically quarantined the conflict to the contact line in the Donbas since February 2015.
But combat never stopped. Of the war's roughly 13,000 fatalities, more than half occurred after Minsk II went into effect.
The prisoner swap did little to ease longstanding animosities toward Russia among some Ukrainian war veterans—especially as the daily shelling and gun battles continue to kill and maim their comrades.
"The fact that the captives returned is very good, because the Russians have no honor. They treated our patriots very cruelly. Peace can come only after the complete liberation of the Donbas and Crimea from the Russian scum," said Alexander Pocynok, 39, a Ukrainian veteran of the Donbas conflict who deployed multiple times from 2014 to 2017.
Consequently, Zelenskyy will have to make the case to Ukraine's crop of battle-hardened veterans—many of whom are profoundly distrustful of Moscow—that negotiating with the Kremlin is ultimately worth the inevitable concessions for the sake of peace.
"It's very difficult to now envisage a situation in which Moscow follows a purely Ukrainian vision of conflict settlement—like relinquishing control of Donbas—without any major political preconditions," said Mykola Bielieskov, deputy director of the Institute of World Policy, a Ukrainian think tank.
"The prisoner exchange is, of course, a good thing," Bielieskov said. "This kind of stuff cannot be done without some sort of mutual trust. And a degree of trust is the prerequisite of any possible, broad conflict settlement."
However, experts agree that far thornier issues remain for Putin and Zelenskyy to hash out.
Those challenges include the reciprocal pullback of troops from the contact line, as well as implementation of political provisions of the Minsk II cease-fire agreement that remain highly controversial in Ukraine—such as the requirement that Russia's proxy separatist territories have voting rights in Ukraine's parliament.
"Now, it can be expected that Russia will even double down on its demands for Ukraine to implement the political provisions of the Minsk Agreements, including the constitutional changes, without Moscow's fulfilling its own obligations in the security sphere," said Szeligowski, the Polish research fellow.
Promises
Resolving the conflict in the Donbas was a key plank of Zelenskyy's presidential campaign, which unseated incumbent Petro Poroshenko in April.
"President Zelenskyy during the past electoral season in Ukraine created overblown expectations concerning a very quick exchange of prisoners and an end to the war in general," Bielieskov said. "Basically, Zelenskyy presented himself as the president of peace compared with Poroshenko as the president of war."
After winning the presidency in an electoral landslide, Zelenskyy called for renewed peace talks with Putin within the so-called Normandy Format.
A majority of Ukrainians see the ongoing war in the Donbas as their country's most pressing problem, polling shows. Still, Zelenskyy's peace push has been criticized by some quarters in Ukraine as a politically motivated gambit.
Others warn that Zelenskyy's openly advertised appetite for a peace deal may put him at a disadvantage when negotiating with Moscow.
"I fear that Moscow might try to use those overblown expectations in case of broad conflict settlement," Bielieskov said. "If President Zelenskyy doesn't deliver on his promises, he might face the prospect of losing popularity. So, he is in a self-made trap."
First Step
James S. Gilmore, U.S. ambassador to the Organization for Security and Cooperation in Europe, called the prisoner exchange "a real achievement" by Zelenskyy.
"The U.S. Mission to the OSCE has been decisive in calling for the release of these prisoners by Russia," said Gilmore, a former governor of Virginia and chairman of the Republican Party who was a two-time presidential candidate. "We urge Russia to cease its aggression in eastern Ukraine and Crimea and release all those still unjustly detained."
In other reaction, European Council President Donald Tusk wrote Saturday on Twitter, using an alternative spelling for Sentsov's first name:
"Finally! The release of Oleh Sentsov and the Ukrainian sailors fills me with relief. I continue my call on Russia to release all political prisoners and respect Ukraine's territorial integrity."
NATO spokeswoman Oana Lungescu struck a cautious note, calling the prisoner exchange "a step in the right direction."
"NATO continues to call on Russia to fulfill all its obligations under the Minsk Agreements, including the release of all prisoners," Lungescu wrote Saturday in a press release.
Some experts caution, however, that Russia may be looking to extract concessions from the West—sanctions relief, in particular—by demonstrating good behavior.
"Putin's intention had been to show the international community—mainly Germany, France, and the U.S.—that Russia may behave constructively," said Szeligowski, of the Polish Institute of International Affairs.
"In my opinion, the West should be very careful in how it perceives the exchange," Tsekhanovska, the Ukrainian researcher, said. "Moscow has done what it was obliged to do, especially with the 24 sailors, and it shouldn't receive extra praise for this. Otherwise, it will turn into an extortion tactic."
Since the war began in 2014, about 3,280 Ukrainians have returned home from imprisonment in either Russia or the two separatist territories controlled by Moscow in eastern Ukraine, according to the Security Service of Ukraine, or SBU.
At least 227 Ukrainians remain in Russian prisons, according to the Ukrainian security agency. Ukraine also counts 70 soldiers still missing in action.
"Next, we will be moving towards the return of all our prisoners and continue the troop withdrawal within the Minsk process … then withdrawal throughout the entire territory, and finally a full cease-fire and an end to the war," Zelenskyy said Saturday.
Referring to Putin, Zelenskyy said: "It seems to me that we all took the first step; everything else depends on him."