Bre Payton, a writer for The Federalist, was a longtime collaborator with and friend of The Daily Signal.
Bre, who died Friday, was in and out of the Daily Signal offices on a near-weekly basis, as the co-host of "Problematic Women" podcast, which she worked on with our Kelsey Harkness, Lauren Evans, and more recently, Ginny Montalbano. I knew it was "Problematic Women" day because I'd often see Kelsey, Bre, and Lauren huddled up in Kelsey's office, discussing what stories to cover.
They had fun, too; when they came out of the podcast studio, they'd often be all smiles. They were serious—they knew it was important for conservative women to discuss these topics and show that there was a diversity of views among women—but they also took a lighter approach about some of the zanier media stories and politically correct insanity. They chose the name "Problematic Women" because they knew that's how the left saw them: they were "problematic" because they thought for themselves.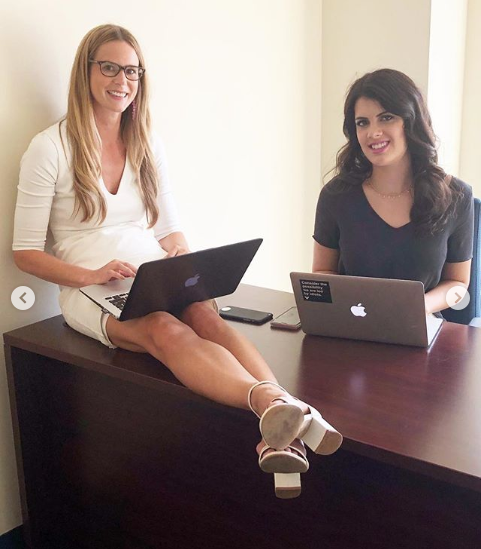 (Bre and Kelsey, presumably prepping for "Problematic Women.")
Bre's family posted this update on a GoFundMe raising funds for a scholarship in Bre's name:
Around 8:30, on Dec. 27, Bre's friend went into her room and found her unresponsive and barely breathing. She immediately called 911 and Bre was taken to the hospital where she was admitted to the ICU, sedated and intubated, and doctors began working up a diagnosis. After a CT scan and hours of testing, they have determined she has the H1N1 flu and encephalitis. George [Bre's dad] stayed at the hospital with her in San Diego.

She unfortunately passed away, and has gone to be with the Lord. Her memory will live on by her four siblings and parents. At this time we ask that you keep her family uplifted in prayer and know that we will see her again.
Kelsey shared this beautiful story about Bre on her Instagram Friday:
And Lauren remembered her on Twitter:
Ive never met anyone in D.C. who was truly as selfless, genuine, beautiful, and kind as @Bre_payton. I know we're hurting a lot down here, but I take comfort knowing she's with Jesus tonight. pic.twitter.com/wmJeuetO0X

— Lauren Evans #10hana?? (@laurenelizevans) December 29, 2018
Lauren adds:
Bre really cared for the conservative movement. This wasn't just a job for her—she lived and breathed the values we talked about. More than most people I've met in the city.

She was so smart—she could write headline or even a whole section/article so fast and make the boring topics really engaging.

She wanted to see others around her succeed and just embodied servant love and selfless-ness. This is something Kelsey and I talked about a lot even before her passing. … Bre always pushed me to actually be on the podcast, to talk about things that I'm passionate about, and when I was in the control room make sure that I got credit for being the producer. I wanted to take her as my plus one to the Heritage Christmas party this year, but the deadline to register a plus one had passed and even though she wanted to come, she didn't want me to bother the events staff with having to add another name.
Ginny also remembered Bre on Twitter:
Bre was always willing to give advice and give it to you straight – she wanted to lift others up and had such a kind heart. She will be so missed… https://t.co/gXo6deHTxu

— Ginny Montalbano (@GinnyMontalbano) December 28, 2018
— Ginny Montalbano (@GinnyMontalbano) December 28, 2018
Others on the Daily Signal team remembered her, too:
Life is such a precious gift. @Bre_payton lived hers exquisitely well and we will never forget her. There are no words for the perpetual void her loss will leave in this world.

— Lyndsey Fifield (@lyndseyfifield) December 28, 2018
An incredibly sad day for everyone who knew her–> Bre Payton, Beloved Staff Writer At The Federalist, Has Passed Away https://t.co/BWZTPrivTt

— Jarrett Stepman (@JarrettStepman) December 28, 2018
Our prayers are with the Payton family and all of Bre's friends. She touched the lives of so many and will be deeply missed. https://t.co/lPpqhp4NQ3

— Rob Bluey (@RobertBluey) December 28, 2018
And finally, this wonderful picture of Kelsey and Bre from CPAC in 2018, when they encouraged other women to embrace their "problematic" status:
My podcast co-host. My Problematic Woman in crime. My birthday twin. My very dear friend. At just 26, @Bre_payton was youger than me, but felt more like my big sister. I am in complete shock that we lost this beautiful soul, and am comforted only by the faith she had in the Lord. pic.twitter.com/8rUNejejdu

— Kelsey Harkness (@kelseyjharkness) December 28, 2018
Many of the tributes to Bre, like Kelsey's, have mentioned her faith. The last time I saw Bre was earlier this month, and I thought she was heading to shoot "Problematic Women" since I ran into her a block from The Heritage Foundation building. But no, said Bre, she'd already done that. Instead, she told me—and this was a Wednesday, around lunch, mind you, not a Sunday morning—she'd just been to church. And then, because one of the things I liked the most about Bre was how easily she could slide from serious to a little silly, we discussed a new nail product she'd told me about recently.
We're going to miss her a lot at the Daily Signal offices.
If you want to honor her memory, her family has set up the "Bre Payton Scholarship Fund in loving memory of Bre's beautiful light, joyful spirit, hard-working ethics, and compassionate heart" to fund "college scholarships to support other young, rising Christian leaders who share in Bre's passion for truth, purpose, and life." Contribute here.