KYIV, Ukraine—As Ukraine reels from a series of recent setbacks in its relationships with the U.S. and the European Union, China ultimately stands to gain.
China has been steadily increasing its economic clout in Ukraine through a broad gamut of infrastructure investments and other economic initiatives. This year, China overtook Russia as Ukraine's top trading partner, underscoring a landmark shift in economic ties between Kyiv and Moscow.
Ostensibly, China is grooming Ukraine to become a key node in Beijing's One Belt, One Road trade route across Asia to Europe. China also has its eyes on Ukraine's military hardware and agricultural exports.
Ukraine has replaced the U.S. as China's top supplier of corn. And China is now the top purchaser of Ukrainian military arms, according to data from the Stockholm International Peace Institute, a research body that maintains a yearly assessment of the global military arms industry.
"China is really interested in our military technologies, and for Ukraine it's a matter of economic growth," Oleksiy Goncharenko, a member of Ukraine's parliament, said in an interview with The Daily Signal.
Ukraine will not likely return to Russia's fold anytime soon. After five and a half years of war in which more than 13,000 Ukrainians have died, there's simply too much bad blood. This likely will taint relations between the two erstwhile Soviet allies for decades to come.
But that Russo-Ukrainian divorce doesn't necessarily mean that Ukraine is on an irreversible, pro-Western trajectory, some experts say. Rather, if Kyiv begins to doubt the long-term durability of U.S. or European support, then it could prefer Beijing's promises of easy cash and general indifference to anti-corruption reforms.
Letdown
In the winter of 2013-14, a grassroots revolution overthrew Ukraine's pro-Russian president, Viktor Yanukovych. At its heart, the "Revolution of Dignity" was about Ukrainians' choice to be a democratic, European country, free from Russian vassalage.
In 2014, the United States and the European Union levied punitive economic sanctions on Moscow for its aggression in Ukraine. Since then, relations between Russia and the West have hit a post-Cold War nadir. Yet, some European Union countries recently have sent Ukraine mixed messages about the bloc's appetite for pushing back against Russian aggression.
Last week, Denmark—a member of both NATO and the EU—approved a permit to allow Russia's Nord Stream 2 gas pipeline to pass through its territorial waters. The move rolls back the final regulatory roadblock for the controversial, 756-mile-long pipeline to Europe, which now can be completed within a matter of weeks if construction moves ahead as scheduled.
Russia currently supplies about half of Europe's gas, and about half of that amount passes through Ukrainian transit pipelines, providing Kyiv with about $3 billion a year in gas transit fees.
That number represents about 2% of Ukraine's 2018 gross domestic product of approximately $131 billion—not an insignificant loss if Russia were to turn off the spigots. In fact, that loss in income would almost negate the 3.3% in GDP growth Ukraine notched in 2018.
Nord Stream 2 parallels the existing Nord Stream pipeline under the Baltic Sea. Once operational, Nord Stream 2 would double the annual 55 billion cubic meters of Russian gas currently pumped from Russia to Germany via the existing pipeline, allowing Russia to bypass the Ukrainian transit pipeline system altogether.
"It's going to give the Russian Federation an enormous lever over Ukraine and a hammer that they can hit the Ukrainians with," U.S. Deputy Secretary of State John Sullivan said during a confirmation hearing on his nomination to become the American ambassador to Russia. "If the Russians cut gas transit through Ukraine, Ukraine will lose billions in hard currency that is desperately needed for its economy."
The view from Kyiv is that by green-lighting Nord Stream 2, the EU is signaling that its economic bottom line takes a higher priority than pushing back against Russia's military aggression in Ukraine. Ukrainian President Volodymyr Zelenskyy said Nord Stream 2 "strengthens Russia and weakens Europe."
About 87% of Nord Stream 2 already has been completed, according to the Russian gas conglomerate Gazprom, which controls the project. Gazprom CEO Alexei Miller said that with the permit in hand, Nord Stream 2 can be completed by year's end.
Since the breakup of the Soviet Union in 1991, Russia often has leveraged its power over Ukraine through the energy economy, particularly by cutting off gas supplies in winter.
Notably, in January 2009, Russia cut its gas exports to Europe through Ukraine, plunging the Continent into an energy crisis almost overnight.
Russian President Vladimir Putin, who was then Russia's prime minister, ordered Gazprom to cut exports through Ukrainian pipelines by about three-fifths. The move came amid one of the lowest recorded winter temperatures in London in a century, sparking fears of a sharp increase in oil and gas prices.
"The full implementation of the Nord Stream 2 project may result in the disruption of Russian gas transportation through the Ukrainian [gas transit system], and thus the disruption of gas supplies via Ukraine to the EU, that could lead to the state of emergency," a report by the Center for Global Studies, a Ukrainian think tank, concluded in December 2018.
Energy independence from Russia has become a cornerstone of Ukraine's national security strategy. To that end, Ukraine weaned itself from Russian gas in 2015, favoring supplies routed from the EU. The country also has taken steps to boost its own domestic gas discovery and production in the intervening years.
More Bad News
Ukraine's outsized role in the U.S. impeachment drama has many officials in Kyiv worried about the durability of U.S. bipartisan support.
The country also is grappling with a holdup in International Monetary Fund loans, which are vital to Ukraine's economic recovery from the 2014 revolution and the ongoing war in the Donbas. According to news reports, those IMF loans have been withheld due to concerns over corruption in Ukraine's banks.
To make matters worse, Bulgaria—another member of NATO and the EU member—recently announced that it had approved an extension to Russia's TurkStream pipeline, which passes under the Black Sea to Turkey. That pipeline extension will bypass Ukrainian transit pipelines to deliver Russian gas to Serbia, Hungary, and Austria.
Meanwhile, the business climate in Ukraine remains "generally positive," according to Andy Hunder, president of the American Chamber of Commerce in Ukraine.
Hunder referenced a recent investment climate survey, which found that 82% of American Chamber of Commerce members plan on expanding their business in Ukraine in the next five years. Also, 88% of members project an increase in revenue in 2019, the survey found.
"Ukraine remains most attractive due to its talents, low labor costs, and considerable access to the European market," Hunder said. "Rule of law is top of the list of areas that require urgent improvement."
Eastern Promises
China has had its economic sights set on Ukraine since 2011. That year, under the watch of Yanukovych—Ukraine's now-deposed, pro-Russian president—the two countries established a long-term strategic partnership in economic ties and trade. In 2012, China supplied Ukraine with $3 billion in agricultural loans.
Xi Jinping became president of China in March 2013. The following September, China reportedly leased 3 million hectares (about 7.4 million acres) of agricultural land from Ukraine for use in producing meat and crops. At a $2.6 billion price tag, the move represented China's largest-ever purchase of agricultural land abroad.
In December 2013—as pro-democracy protests were simmering in Kyiv—Yanukovych met with Xi in Beijing. Both sides recommitted to their strategic partnership. The following February, Yanukovych was ousted in Ukraine's pro-Western Revolution of Dignity.
Yet the momentum of tightening Sino-Ukrainian ties that Yanukovych set in motion continued on unabated by the successive post-revolutionary presidencies of Petro Poroshenko and Zelenskyy.
Through August, China was the top source of Ukraine's imports and the top destination for its exports. China's Poly Changda Engineering company recently signed an agreement with Ukraine's state highway agency to build a ring road around Kyiv.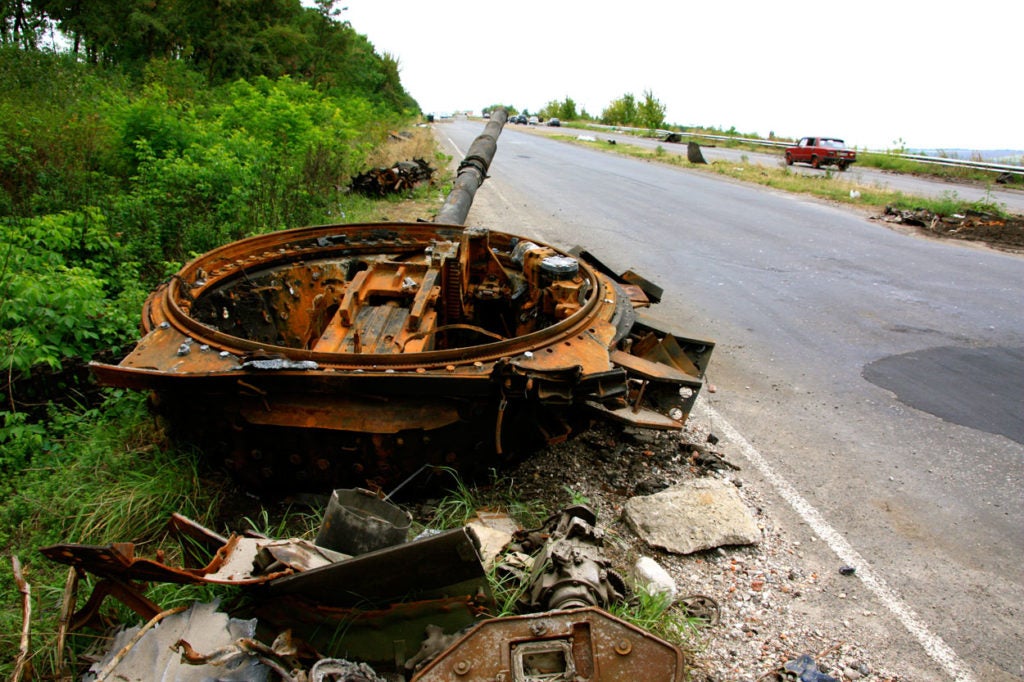 One way for Ukraine to spur economic growth has been through land reforms to open up territory to foreign investment, a move championed by Zelenskyy. As the so-called bread basket of Europe, Ukraine represents an enticing foreign investment opportunity for China as it looks to diversify its agricultural import base in light of ongoing trade tensions with the U.S.
"President Zelenskyy wants to open [the] land market for foreign investors," Goncharenko, the member of Ukraine's parliament, told The Daily Signal. "So, I think China will do a lot of efforts to buy our lands."
From the Russian perspective, a Ukraine economically beholden to China might be the best option to forestall Ukraine's pro-Western transformation. Above all, Moscow wants to forestall Ukraine's Western pivot—in particular, the Kremlin wants to derail any aspirations of Ukraine one day joining NATO.
Zelenskyy recently made overtures to Moscow to restart peace talks to resolve the war in the Donbas.
At the same time, Zelenskyy also has made it clear that Ukraine wants to join NATO. To that end, since 2014, Ukraine has revamped its armed forces, looking to achieve interoperability with NATO forces in the near future and membership in the Western alliance in the long run.
Ukraine is rapidly transforming into a regional counterbalance to Russia's military strength, upheaving the pre-2014 security picture in Eastern Europe in the process.
No Turning Back
In 2014, Russia invaded and seized Crimea and launched the war in Ukraine's eastern Donbas region. The ongoing war has so far killed more than 13,000 Ukrainians.
In October alone, nine Ukrainian soldiers died in combat, continuing the pace of about one death every three days that has persisted for years despite a defunct February 2015 cease-fire, known as Minsk II.
Russia's invasion spurred a political, economic, and cultural divorce between the two erstwhile Soviet allies. As a result, Ukraine's society and governmental institutions have evolved dramatically along a pro-European vector since 2014, propelled by a groundswell of pro-democratic civil society activism.
However, economic progress has lagged.
Some analysts say Ukraine needs to notch annual GDP growth rates of about 8% for the average citizen to notice any quality of life improvements. Last year's GDP growth of about 3% fell far short of that benchmark.
Thus, spurring economic growth remains a top priority for Kyiv. The catch is that Western economic aid, such as IMF loans and U.S. military support, typically is tied to specific anti-corruption reform benchmarks.
Simply put: If Ukraine doesn't demonstrate measurable anti-corruption progress, it doesn't get Western cash.
That's not the case, however, with Chinese investments, which come without any reformation riders, promising Ukraine easy cash to fund infrastructure, agricultural, and industrial projects that have an immediate impact on citizens' quality of life.
Therefore, some experts warn that Chinese cash could offer Ukrainian officials a tempting chance to jump-start their country's economy without the caveat of following through on reforms.
Goncharenko, however, says China's growing clout has not yet eclipsed Ukraine's preference for developing closer ties with the U.S. and Europe.
"Ukraine is a Western country," he told The Daily Signal.
"From my point of view, we should find a way where our people will have their jobs, and also we can't go against [the United States]," the member of parliament said. "But I don't think Ukraine can choose China over the USA … I don't see the Chinese working in Ukraine as hard as they are working in some African countries where they want to establish their influence."
The Long Game
The U.S. has shown signs of concern about deepening Sino-Ukrainian defense ties.
According to news reports, Eric Prince, an adviser to President Donald Trump and former owner of the American private military force Blackwater, has traveled to Ukraine several times over the past few years in an effort to block China from purchasing Motor Sich, a Ukrainian aviation engine manufacturer.
The aerospace company is in financial dire straits, losing roughly $22 million on $255 million in revenues for the first nine months of this year, according to Ukraine Business News.
The lion's share of Motor Sich's business used to be with Russia. The company's bottom line took a hit when Kyiv banned all military sales to Moscow due to the war.
Motor Sich pursued new ties with China after 2014 to shore up its finances, reflecting a broader shift among all Ukrainian defense exports from Russia to China due to the war's resultant arms sale embargo. In 2018, 35% of Motor Sich's $450 million in sales went to China, whereas Russia previously accounted for about one-third of the company's $1.1 billion in total sales.
Ukrainian officials authorized the Chinese purchase of Motor Sich in June, but the move has since stalled and is reportedly awaiting approval by the Antimonopoly Committee of Ukraine.
The purchase would be instrumental to China's developing its own fleet of attack helicopters as well to mass produce its own fighter jet engines, according to a Ukrainian government report.
In August, then-White House national security adviser John Bolton visited Kyiv in an effort to forestall the Chinese acquisition of Motor Sich.
"Defense and sensitive technology should not get in the hands of potential opponents," Bolton told the media outlet Evropeiska Pravda at the time.
The entire Motor Sich affair reportedly has some Ukrainian officials worried that their country's aspirations for NATO membership may be compromised by going ahead with a deal clearly opposed by the U.S.
Others, however, say that Ukraine needs to do what's best for its own economy, while also treading a careful line so it won't antagonize its Western partners.
In many ways, Ukraine's Motor Sich dilemma is a bellwether for the kinds of tricky crises Kyiv will have to navigate as it tries to balance its financial concerns with the interests of Western allies.
"Motor Sich is one of the biggest plants of Ukraine. … Thousands of people are working [at the plant] and we want them to have their salaries, and if China wants to buy the plant I don't see a big problem in that," Goncharenko said. "But of course, we need to be in alliance with our friends in the USA and Europe and listen to their concerns about Chinese influence."