"Two roads diverged in a yellow wood, / and sorry I could not travel both. / And be one traveler, long I stood / And looked down one as far as I could," poet Robert Frost wrote in "The Road Not Taken."
As with Frost's path, two means of certifying schoolteachers have also diverged in California and Arizona, and one path—the one less taken in most states—is proving to better serve its teacher and student travelers.
State policies governing teacher certification can have a considerable effect on the educational options to which families have access.
For example, while families in Arizona enjoy a robust and diverse charter school system, parents in the California, on the other hand, are watching government policies suffocate a popular charter school sector, doing so through numerous regulations, including regulations on the teacher workforce.
This summer, California policymakers reached a deal that could hamper charter schools' ability to provide unique learning environments. The proposal would require all charter school teachers to obtain the same credentials as district school teachers.
That would fundamentally undermine charter school autonomy in one of the areas most important to charter school leaders; namely, who teaches in their classrooms.
California already compels charter schools to hire teachers with "a state-approved credential in all core academic subjects, including English language arts, math, science, and social studies." The new regulations would also require those who teach electives, such as music and art, to obtain state-approved credentials.
These certifications will cost physical education and music teachers nearly $300, while art teachers will have to pay more than $260. Those costs do not include the time, energy, and transportation teachers will expend to acquire the state-mandated credentials.
Innovative charter schools are popular with Californians as they enroll about 10% of students. Their popularity increased dramatically in the past decade, which saw enrollment increase by 150%.
Opponents of charter schools claim that state-mandated teacher credentials are needed to ensure school quality. Such regulations, however, would vastly limit the pool of potential teachers, because credentialing is a lengthy and burdensome process—which research suggests provides limited, if any, value.
Research from the Brookings Institution, for example, shows that there is no difference between teachers who are traditionally certified, alternatively certified, or not certified at all.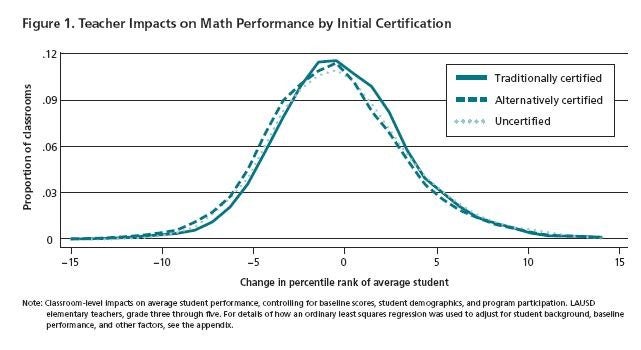 Source: Brookings Institution
Compulsory certification also means highly qualified professionals with subject-matter expertise and experience will be barred from bringing their skills to the classroom, absent a government seal of approval.
People like Microsoft's Bill Gates, cellist Yo-Yo Ma, and former Secretary of State Condoleezza Rice could not teach in their respective fields of computer science, music, or political science without state certification.
The waters are further muddied since the new skills-based credentials are often conflated with California's Certificate of Clearance, which guarantees that prospective teachers receive the necessary background checks to ensure student safety.
At the end of the day, state-required teacher credentialing is a win for teachers unions. By creating more barriers to the teaching profession, the jobs of unionized teachers in district schools are artificially protected from charter school competition.
As education policy specialist Mike McShane commented in Forbes, "Large, wealthy, incumbent actors can actually start to influence the ways legislation or regulations are written in order to stifle their competition. Traditional teacher preparation programs can lobby states to write regulations that make alternative certification paths more difficult."
California's proposed teacher certification regulations are a clear instance of regulatory capture and aim to strangle charter competition.
Instead of allowing special-interest groups to drive policy about the personnel decisions made in local schools, policymakers should follow the lead of Arizona, enabling school leaders to determine the people and practices that will best serve students in the state.
Arizona does not require state certification of charter school teachers, allowing school principals to make hiring decisions independently. Arizona charter schools must specify their teacher qualifications in their charter applications and keep employee resumes and employment histories on hand for parents or anyone else at all times.
Moreover, Arizona's policy is complemented by a charter school system that enables families to drive accountability in the sector. Nearly 20% of Arizona students are enrolled in charter schools.
As researcher Matt Ladner noted in Education Next, "When parents don't like a school, they can simply vote with their feet, either by withdrawing their children from the school or by not choosing it in the first place. It is, therefore, parents, rather than state officials, who play the primary role in holding Arizona charter schools accountable, in a highly efficient manner."
While charter schools are awarded 15-year authorizations in Arizona, most underperforming charter schools closed within four years of opening because dissatisfied families left for better schools.
Attrition, driven by families leaving due to dissatisfaction, as Ladner explains, creates strong accountability that shutters underperforming schools before state officials do.
Arizona's free and open education market forces schools to respond to families and orient their services toward family needs.
Great Hearts Academy in Arizona is a superb example of the unique niche charter schools fill. There, teachers lead students in Socratic Method Seminars (roundtable discussions) and cultivate virtue in students—one of the most important qualities parents seek in their children's schools.
The fruits of Arizona charter school innovation were illustrated in the 2015 National Assessment of Educational Progress results, in which fourth- and eighth-graders in charter schools consistently outperformed their district school peers in math and reading.
In fact, these charter schools, unlike their district school peers, consistently approximated the national assessment performance of students in Massachusetts, who routinely perform at the top of the pack in the nation.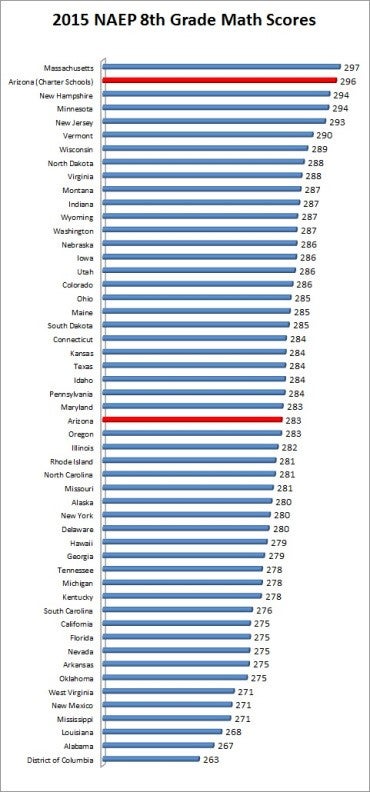 Source: Matthew Ladner
Arizona charter schools are achieving their success without state-mandated teacher certification and heavy-handed regulations.
"For decades, parents have allowed the $600 billion public education cabal to professionalize them out of the educational equation, basically demanding we shut up, hand our children over, and let the experts do their work," wrote Education Post CEO Chris Stewart at Project Free Forever. "It hasn't worked out. Schools today remain mediocre, and education policy offers little hope for systemic change."
Policymakers in California would do well to trust the decisions of parents.
"Two roads diverged in a wood, and I – / I took the one less traveled by, / and that has made all the difference," Frost wrote in the conclusion of his famous poem.
Freedom for parents to choose and freedom for schools to lead is making all the difference in Arizona. It's time to make the road less traveled—freedom in education—the norm.