Three student journalists have filed a lawsuit against their Illinois university and an instructor, alleging that the teacher grabbed and broke a smartphone as they tried to report on an anti-Trump rally.
The three students' federal suit against the University of Illinois at Urbana-Champaign and instructor Tariq Khan says that the university got a restraining order preventing them from reporting on Khan's involvement in the November protest against President Donald Trump.
Khan, 39, was charged with destruction of property after taking and smashing a student's smartphone on the pavement, an action caught on video.
The suit contends that the instructor and university officials violated the students' constitutional rights to free press, free speech, and due process, according to the law firm representing the students, Mauck & Baker, LLC.
"The First Amendment should not be a partisan issue or something only conservatives are willing to defend," the law firm said in a formal statement.
The suit claims that the school punished freshmen Joel Valdez and Blair Nelson and senior Andrew Minik for reporting on the anti-Trump rally, the organizers of which included the Black Rose Anarchist Federation.
"The First Amendment should not be a partisan issue or something only conservatives are willing to defend."

We reported on violent communist groups attacking conservatives, and we were punished for it. Today, we're filing a federal lawsuit against the University of Illinois. pic.twitter.com/AO7bUnfeET

— Joel Valdez ?? (@realJoelValdez) April 9, 2018
"During the rally, Black Rose spokesman and university instructor, Tariq Khan, assaulted Joel Valdez and also went after student Blair Nelson who was video-recording the event," the law firm said. "Co-plaintiff Andrew Minik, who was not at the event, reported on the incident for Campus Reform, a college news organization."
The university's restraining order on Valdez and Nelson was "to prevent them from reporting on Tariq Khan," their lawyers said in a press release.
A video of the incident appears to show Khan, a doctoral candidate and graduate instructor of history at the University of Illinois at Urbana-Champaign, yelling at students, physically assaulting one, and taking and throwing the phone to the pavement.
"Our attorneys are reviewing this," a university spokesman said Friday, declining further comment to The Daily Signal on the lawsuit.
Khan is seen in the video saying "f— Donald Trump" and telling Valdez and other members of Turning Point USA, a conservative student organization present during the demonstration, that he will "go tear down one of your flyers right now."
The video shows Valdez appearing to anger Khan by suggesting the instructor had nothing better to do than protest Trump and asking, "Don't you have kids to look after?"
Khan then accuses students of threatening his children at least 25 times in a span of about three minutes. He is seen raising his hand and apparently attempting to hit Nelson, who is recording him with a phone.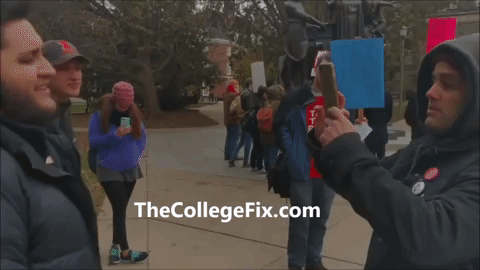 The video shows Khan shouting at students when they ask him how they have made a threat, accusing them of threatening his children.
Other times he chooses not to reply, as shown in this six-minute video, which contains language many viewers may find offensive:
"Say something about my kids again," Khan yells at Valdez. "Say one more thing about my kids, bitch."
The university instructor is seen saying to students: "You'd better check yourself, OK? Check yourself. I'll f— you up."
The broken phone reportedly had an estimated value of $700.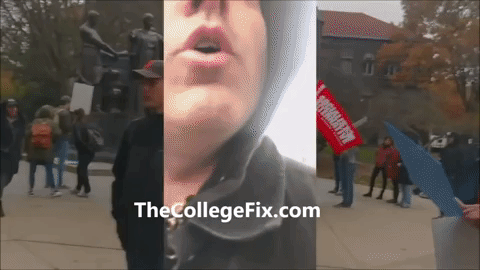 University police charged Khan with criminal destruction of property. His case is pending.
According to the lawsuit, the university secured a restraining order on the three students at the request of Khan after Minik, a senior, reported on the incident for Campus Reform.
"I was told that if I wanted the 'situation to improve,' that I should stop writing about Khan," Minik told lawyers, according to the law firm.
The Daily Signal was not able to reach Khan, whose contact information was removed from the university's website after the incident, and Campus Reform has said he has not responded to its requests for comment.
In February, the university's Campus Faculty Association issued a statement supporting Khan, describing him as an Air Force veteran who is "an engaged, thoughtful, and committed scholar and a wonderful and effective teacher."
The lawsuit alleges that Khan is "affiliated with a number of extreme left-wing groups including the Black Rose Anarchist Federation, an 'Antifa' group advocating revolution and expressly justifying political violence."
Khan also is backed by Campus Antifascist Network, a far-left group that organizes protests against conservatives on campus, The Daily Signal has learned.
Campus Antifascist Network released a statement in support of Khan in January that accused Turning Point USA of instigating his actions.
The statement sought to link Turning Point USA to Campus Reform, saying the news organization is its "associated media arm."
In fact, TurningPoint.News, not Campus Reform, is the group's media arm.
Editor's note: Kyle Perisic, an intern at The Daily Signal, is a former reporter for Campus Reform.