Bev Kauffeldt is a team leader for the Christian aid organization Samaritan's Purse. She joins today's Daily Signal Podcast from Cremona, Italy, where she works in a field hospital set up by Samaritan's Purse in the parking lot of Cremona Hospital.
We also cover these stories:
Parts of Florida and all of Maryland and Virginia are shut down and under stay-at-home orders to slow the spread of the coronavirus.
Rep. Mark Meadows, R-N.C., resigns from Congress on Monday afternoon to begin work Tuesday as President Donald Trump's fourth chief of staff.
Another economic blow from COVID-19: Macy's announces it is furloughing most of its 125,000 employees, who work at Macy's, Bloomingdale's, and Bluemercury.
The Daily Signal Podcast is available on Ricochet, Apple Podcasts, Pippa, Google Play, or Stitcher. All of our podcasts can be found at DailySignal.com/podcasts. If you like what you hear, please leave a review. You can also leave us a message at 202-608-6205 or write us at [email protected]. Enjoy the show!
Rachel del Guidice: I'm joined on The Daily Signal Podcast by Bev Kauffeldt, a team lead for the Christian aid organization Samaritan's Purse. She's joining us from Cremona, Italy, where she's working in a field hospital that Samaritan's Purse set up in the parking lot of Cremona Hospital. Bev, thank you so much for joining us today.
Bev Kauffeldt: No problem. Thank you for having us.
del Guidice: To start off, can you just set the scene right now for what things are like in Cremona and what you're seeing on the ground?
Kauffeldt: Sure. Yeah. … Actually, two weeks [ago] today I got here, and I think the first thing we did was we met with the hospital director here at the Cremona Hospital, and he just gave a count of just how overwhelmed they are with the cases that are here.
I think if you look at the numbers and the statistics for Italy, what it doesn't say is that the majority of those cases and deaths are all in the Lombardy region. We are just south of Milan in Cremona, and their hospital, their 600-bed hospital is completely full.
They have a number of patients that are on vents, on ventilators in the ICU, and over 500 beds had COVID patients. They had some beds set aside for sick kids … but the majority of all the beds in there are COVID patients.
On the whole, here in Cremona, the streets are pretty quiet. Police are out, and you sometimes have to show papers to move around. Every day, probably the only sound we hear the most is ambulance going by, coming into the hospital. That's kind of what the scene has been here for quite a while.
I mean, we're coming into this, and again, we've been here for two weeks, but even before that, I would say the last month the people of Cremona have been just really dealing with this.
del Guidice: When someone, a patient comes, is sick, needs to be part of your services, and wants to enter the field hospital, … what do they see when they step on the hospital parking lot? What are they greeted with, and then what does the scene look like for you as far as the field hospital goes?
Kauffeldt: Our field hospital is right across the street from the main hospital in their parking lot. What happens is that, actually, the hospital, in partnership with us, brings patients to us.
As we have free beds, they take people out of their hospital and put them into our hospitals so they can free up more beds as they have people coming in—sometimes 50 to 60 in their emergency room just waiting to get seen.
Really, what we're doing is we're alleviating a lot of that pressure off them to take patients.
We don't have patients coming onto the ambulances straight from home to us. They do go into the hospital system first, and then as we have free beds, then the hospital brings patients to us.
Right now, the ICU, we have the capacity for seven vents, and … our wards are all full. We have 28 females and 28 males. Even taking patients off their ward opens up new beds for them to put people in and to help them. That's been our biggest role is just to support them and take some of the stress off of them.
del Guidice: I'm sure, Bev, that no day is typical for you, but can you tell us about what you've encountered so far on various days as you and your team are serving there?
Kauffeldt: Typical day, it changes daily, but I think the biggest consistency is just the incredible care that our patients are getting from our amazing staff. Our ICU nurses, our ward nurses are all caring for patients.
Sometimes we have people who are discharged, which is just incredible, [there is] a lot of joy when that happens. And as soon as a bed is open, then we take another admission in from the hospital.
But I can't tell you just how much our staff are incredible. The doctors and nurses and the operational staff that support them are just continually just serving the patients, praying with them, being with them, getting them outside to sit in the sunshine a little bit, and talking with them through a translator. That's what our days look like, just a lot of patient care and patient movement.
del Guidice: How did a lot of these doctors and nurses come to this project in Italy to serve in the field hospital? Are they part of … like an international response team or did people volunteer on their own to be part of this?
Kauffeldt: We have what we call a DART roster, Disaster Assistance Response Team roster, and part of that DART roster's for medical emergencies such as this, and so we've been able to respond with doctors and nurses who have been trained in our DART training to different places like our field hospital in Mosul, [Iraq].
We're in [the Democratic Republic of the Congo] for Ebola. We were, just recently, after Hurricane Dorian, we set up a hospital in Freeport, [Bahamas,] and so we do have a roster of people who are specifically trained for this type of work.
del Guidice: How did the people of Italy as well as Cremona Hospital respond to your help and the outreach of Samaritan's Purse? How did you decide to end up working in partnership with Cremona Hospital?
Kauffeldt: We were incredibly blessed that the Italian government, the province of Lombardy reached out and invited us. We don't go anywhere unless we're invited, and they actually chose Cremona Hospital.
When our advanced team, myself and three others, landed here two weeks ago, we met with the hospital. We landed in Milan and went straight down to Cremona and met with the hospital director, so everything was set up for us.
I'm just so glad that we came here. … It's been a really dark time for the people here, and we just want to bring some sort of hope. I believe that we've done that through our staff and just through God's goodness, being able to bring hope in a very, just a very tough situation for the people here in Cremona.
del Guidice: In about the two weeks or so that you've been in Cremona working at your field hospital, are there any particular stories or particular patients that have stood out to you so far during your time there?
Kauffeldt: Well, there's actually … quite a few when I think about it, but there was a really cute older couple that [was] here.
She was in the female ward. He was in the male ward. She got discharged a day earlier than him, and he walked out to see her go, and then he was able to be discharged the next day.
He was so excited to be able to be reunited with his wife again. … It just brings it home that these people are human and just want to be together and be with their family.
Today, we're able to actually see one of our patients who has Down syndrome and has coronavirus, and being able to see him improve is just a miracle of God. We're just so thankful to see that.
When you have these little rays of hope, I think it not only helps the patients, but it helps our staff, and it also helps the hospital staff. They see this, and they hear the stories. We're just praying that that would be a glimmer of hope for them.
del Guidice: Speaking of the patients that come to use your services and be part of the ministry there, are they mostly older, are they younger? You mentioned the older couple, that beautiful story. What kind of age range are you seeing?
Kauffeldt: Yeah. The average age that we're getting is around 66 to 70. We've had some people in their mid-50s, but the majority that we're getting are over 65 for sure.
del Guidice: I know the doctors treat the patients that are in the field hospital, but how much interaction does your team have with the patients that aren't maybe medical staff, and what other services or what other things do you all provide for patients other than just the medical care?
Kauffeldt: What we have here is our staff, who are operational staff. We also have some chaplains here.
When we see the patients sitting outside through a translator, and of course, we're behind a fence, we're able to ask them about them, ask their names, just find out where they're from and how they're doing, ask them about their family. It's kind of fun just to be able to sit and listen to them.
It's also really sometimes heartbreaking to hear their stories, so we're also able to pray with them, and just be a face of hope, hopefully, to them so that they're not alone.
A lot of patients that we're hearing, of course, with Cremona, their family can't be there around them, and so hopefully, in some way, we can be that family for them.
del Guidice: You had mentioned, Bev, that there have been some heartbreaking stories. What are some of the darker, harder things that you've seen during your time in ministry so far there?
Kauffeldt: I think there was one story of a lady who she contracted the virus and had to go to the hospital, and her husband stayed home with their little dog. She found out later that he died at home by himself, and authorities had to come in and knock down the door. She was in the hospital and didn't even know that he had died.
She said to some of our staff, when she does get discharged, the only thing she wants to do is go to his gravesite and see that. That was hard to think that she never got to see him, that he died by himself, and they never got to be with each other. That's a difficult story.
del Guidice: Wow. That is heartbreaking. How would you characterize the crisis in Italy overall looking at everything you've seen so far, working with patients on the inside as well as when you were coming in, when you first landed as part of the advanced team? How would you characterize Italy as a whole?
Kauffeldt: They've been absolutely incredibly gracious, so welcoming. It is not an easy time for Italians here. Italians are relational. They love to be together. They love to be with friends and family, and they're not allowed to do that because when they are, they're getting sick. You can really tell it's taking its toll on this beautiful culture and country.
We've just been overwhelmed by how much they blessed us. We've had people bring baking in for the nurses. We've had people just donate things. It was colder about a week ago and, and someone donated a whole bunch of jackets for our night shift nurses. This is just the type of people that they are.
It's been incredible for our team to be able to just be with them during this time. I really feel like there's a solidarity together to fight the virus.
del Guidice: We've seen a lot of news reports saying that there aren't enough doctors or medical equipment in Italy to treat everyone, and you alluded to that earlier in our conversation. What are you seeing, and is that continuing to be the case?
Kauffeldt: Yeah, I think that's a global issue right now, a global issue in the shortage of medical staff.
In Italy here, I believe 55 doctors or health care workers have already died. They're starting to send some doctors from the south of Italy up here to help with that.
But around the world and here in Italy and Spain, you're hearing it, in the U.S., in the U.K., France, you're just hearing that the main two needs are staffing, nurses, doctors, and also equipment.
del Guidice: You mentioned earlier as well, you were part of the Ebola response team in Liberia, and you also served with Samaritan's Purse there. What was that experience like?
Kauffeldt: … In 2014 in … West Africa, I was in Liberia for the Ebola response. I mean, it was very, very difficult. That was before we had a vaccine or treatment, and so of course, the disease was very deadly. The death rate was incredibly high. It was a very, very difficult time in all, honesty.
But I think that experience has helped us as Samaritan's Purse to be able to know how to respond to infectious disease.
After we did Ebola in Liberia in 2014, just this past year, we were in [Democratic Republic of the Congo] also doing Ebola, and now we're here doing COVID-19, and I think every experience that we get, we just learn more and more so that … basically, what it comes down to, we can serve our patients as best as possible.
del Guidice: Given what you experienced working in the Ebola crisis and now serving in Italy combating COVID-19, how would you compare the two crises back from what you saw with Ebola and then looking now at COVID-19?
Kauffeldt: Well, again, I think with Ebola, before the vaccine, it's just that much more deadlier. It's that much more severe. It killed people very quickly and very traumatically in all honesty, and so, of course, your death rate was very, very high for the amount of infections.
Here, with COVID, it spreads a lot faster, but it's not as deadly. … I would say, there is an age group that is more susceptible, the older age group, [whereas] Ebola, it affected everyone. There wasn't anyone that was immune to that.
Obviously, we are seeing some cases of younger people now with getting COVID. There's lots of things that are factors into that, underlying medical issues, asthma, whatever else, but on the whole, I believe still the numbers are close to 80% of all patients are over 60, where [with] Ebola you had an array of all kinds of different patients from babies all the way up.
Again, Ebola is a little bit harder to get, for sure, but it's much deadlier. But through that 2014 Ebola crisis, the outcome of that was therapeutic to treat Ebola, but also a vaccine. I think that's really changed, the face of being able to react and deal with Ebola, which is great.
Obviously, that is our prayer that there would be a vaccine for COVID-19 to help if this ever comes up again, and we hope it doesn't.
del Guidice: Well, Samaritan's Purse has been really busy. I just saw, I think it was last night, you all are opening a field hospital in New York City, in that area. I'm curious, have you heard anything from teammates … I know you're in two different countries right now, but on what they're seeing in New York City at the moment?
Kauffeldt: Yeah. … When we came to Italy, we came right in the middle of the crisis, and the team lead in New York City, they're building, and almost done actually, a mirror copy of what we have here in Italy, 68 beds.
They said that they've probably arrived a week or two before it gets really, really bad, so in that way, it's really good that we're there so that we can fully prepare them and get ready.
They're partnering with Mount Sinai Hospital, and they're in, I believe, Central Park. They've had incredible help from everyone, from the New York Police Department and other people, Mount Sinai staff. We're just happy to be able to be the hands and feet of Jesus and go and help people during this time.
It's unprecedented that we would think that we'd be doing a response like this in Italy and Central Park in New York. We usually are in countries that are very different than this, but our teams are adaptable. They're flexible. Again, we go where we're needed.
del Guidice: How long, Bev, are your days as well as your teammates', the different medical workers that you're serving with, how all are you staying rejuvenated [amid the] … very long, very full days right now that you're undergoing?
Kauffeldt: I mean, we're a 24/7 operation here. Our nurses work 12-hour shifts, 7 to 7, much like the nurses in North America. Our operations teams are here. We have people on call at night.
It is long days, but many of us, this is what we do, and so we kind of get into a groove, and to us, it's worth it.
We get the opportunity to pray with people, to share about Christ and how God loves them, and we get to serve other people and be together as a team doing that.
We do try to get into a rhythm where we can take maybe half days off, and as team leads, that's something that I'm very aware of, making sure my team has some rest now and then. We're getting into that rhythm as we get some staff and get our schedules down.
del Guidice: As you've been working and serving there now for about two weeks, what would you say has been the biggest challenge or the hardest thing about what you all are doing, and what's been one of the most beautiful things? What's been one of the biggest blessings as well?
Kauffeldt: I would say the hardest thing is just knowing that this thing isn't going anywhere for a while, and it's not a sprint, it's a marathon, and so knowing best how to just pray for strength for that and how we can continue to sport the hospital here in Cremona.
But I also would say that the highlight and the blessing of being here is the people that we've met, the patients, the hospital staff at Cremona, the vendors who come and help us, the Air Force who came and helped set up our tents and allowed us to land our DC-8 in Verona at their Air Force base, things like that. Just the people of Italy have been an incredible blessing, and that's something that I don't think our team will ever forget.
del Guidice: As we wrap up, I just wanted to ask if there's any more personal stories that you'd like to share. I know you mentioned the one about the person with Down syndrome that's recovering. You also mentioned the story of the elderly couple. So if there's any other personal stories that you'd like to highlight.
And then as well as just talk about how patients have responded as they recover and leave. What is their message to you guys, or what are you hearing from these patients as they leave?
Kauffeldt: Sure. Yeah. There was one other patient, a nurse who was about to retire. I think she was two weeks away from retiring, and she got sick along with five of her co-workers. She's been able to recover here and is doing a lot better. Just hearing her stories from working in the hospital before she got sick was just really humbling.
When people are discharged or we hear from families, they're just incredibly thankful. We've had people just break down in tears. We've gone to our vendors to pick up, whatever it may be, supplies, and they know who we are, and they're like in tears thanking us, and so just an incredible amount of gratitude.
I would say it's reciprocal. Not only are they grateful for what we're doing here, but we're incredibly grateful to be able to serve them.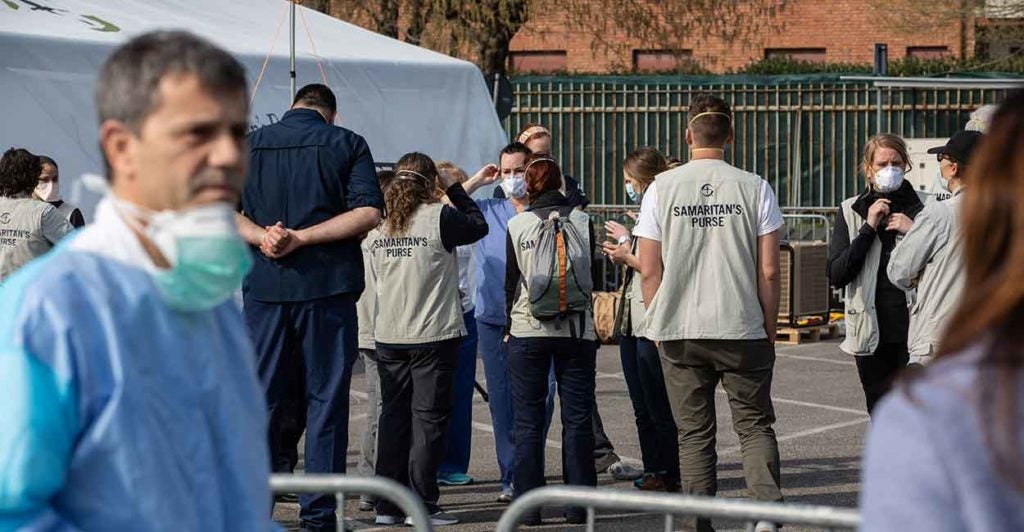 del Guidice: Bev, lastly, if there's people that want to somehow help either here in the United States or elsewhere, how would you encourage them to do that?
Kauffeldt: I would encourage them to our Samaritan's Purse website. … Anything, prayers, just any resources that they want to donate will be given to our response here both in Italy and in New York.
We just want to let people notice how thankful we are for that. We are so blessed by people who are helping us be here so that we can help other people.
del Guidice: Well, Beth, thank you so much for making time to talk with us about the amazing work you're doing at the field hospital in Cremona, Italy, in that Samaritan's Purse setup. It's an honor to have you on with us.
Kauffeldt: Great. Thank you so much, and please be safe.
del Guidice: Thank you, Bev.