A Colorado firefighter and Army veteran with a diagnosed brain bleed is coming home from Mexico after five days in a hospital that his family and friends say was charging thousands of dollars in cash but unwilling to release him.
The news follows pressure from the U.S. government and inquiries from The Daily Signal and other media.
Jason Oliver and his wife Maigan were on a vacation in Cancun, Mexico, to celebrate their 16th anniversary when he developed a severe headache Friday and checked into a local hospital, Hospiten Cancun.
A CT scan found brain bleeding.
For several days, the hospital wouldn't clear Oliver for release, family and friends said, while charging the couple $6,000 a day up front as they pressed for his return to the United States for treatment.
The U.S. Consulate in Cancun made the push that led to the hospital's clearing Oliver for release Tuesday afternoon after an MRI earlier in the day, family friend Mandy Krekora, a flight paramedic in Colorado, told The Daily Signal.
"He's not completely out of the woods yet. He still needs to be scooped out of there in a medevac," Krekora said. "There was no reason for him to have been held as long as he had been. That was not a stroke center or a neurological center. It's a small hospital. He should have been transported."
Oliver, 42, was set to be on a Wednesday flight to Denver.
The situation had become a major news story in Colorado media.
Before news of his pending release, Krekora told The Daily Signal that Oliver needs a neurology specialist.
The hospital is "not allowed" to talk about any medical information for patients, Heidi Mendez, who identified herself as a public relations staffer, told The Daily Signal on Tuesday evening.
Oliver had a CT scan Friday, when he was admitted to the hospital. The new test came after the staff of Rep. Ed Perlmutter, D-Colo., got in touch with the U.S. Consulate in Cancun.
In a statement Monday, Perlmutter said he had talked to the family Sunday:
Our first contact with them took place last night. So far, our office has helped put them in touch with both the U.S. Consulate and Embassy offices closest to them. Our understanding is that Consulate/Embassy officials are working with the hospital now to better understand the timing of things and help provide resources such as financial assistance and medivac options. We are also on hand to help them work with their insurance provider, Kaiser, if need be.
Medical staff at Hospiten Cancun at first said Oliver wasn't ready for flight because of potential pressure on his brain, Krekora said.
But the flight paramedic said medevac aircrafts are built to address such situations. She also said Oliver was improving and able to talk, walk, and eat.
Oliver is a lieutenant with the Lafayette (Colorado) Fire Department.
"All they're doing is watching him," Lafayette Fire Chief David Friedel told Fox 31 News in Denver, although it isn't clear how many details he had. "They're not treating him."
The local Fox station also interviewed Maigan Oliver, the firefighter's wife.
"They did find some spots on his CT scan, his brain was bleeding," Maigan Oliver told Fox 31 News. "They then said it's gonna be $6,000 a day to be in ICU."
Krekora started a GoFundMe page to help the Olivers with their expenses, #BringJasonHome.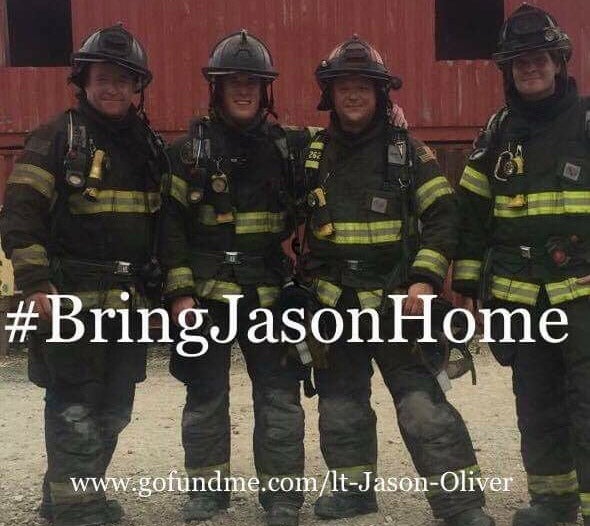 Scott Stephenson, a friend of Oliver's, told KUSA-TV, the NBC affiliate in Denver before the news of his pending release: "He is in a hospital that doesn't have the capacity to provide the sort of care that he needs. At the same time, they're not willing to transport him to another hospital where he could get the care that he needs."
The family had been considering options such as checking out of the hospital without clearance from the doctor in charge of Oliver's case.
The Daily Signal sought comment from Colorado's two senators, Republican Cory Gardner and Democrat Michael Bennet, but neither responded by publication time.
The State Department did not respond to a request for comment, nor did the Mexican Embassy in Washington.
Disclosure: Fred Lucas, who reported this story, attended college with Jason Oliver's brother.