Californians will vote this fall about dividing the state into three new states.
The plan, called Cal 3, has implications for the entire country. It would bump the U.S. Senate up to 104 members as well as throw off the balance of the Electoral College. California currently has 55 electoral votes, but if voters OK the plan, the three new states would share 59 Electoral College votes.
The plan is the brainchild of venture capital investor Tim Draper, who has gathered more than 400,000 valid signatures for his Cal 3 proposition, according to the Los Angeles Times.
The initiative was approved for a majority vote by California election officials Tuesday. If a majority of voters say "yes," there could be two new states in the union.
This is a big return investment for Draper, who has spent millions on his scheme and whose last push for a divided California failed in 2014.
Here's what the California split would look like, according to a Los Angeles Times graphic: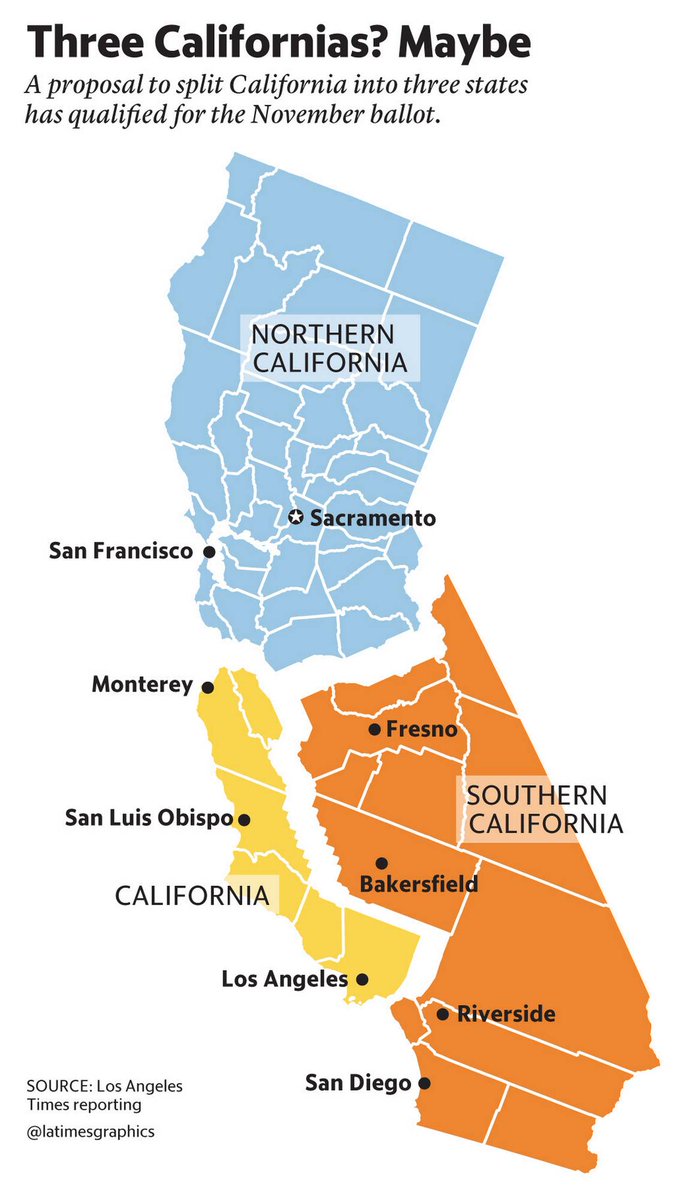 — Lucas Clark (@LucasClark_SLO) June 13, 2018
The Draper plan would create Northern California (spanning the Oregon border to just north of Monterey), California (running along the coast and including Los Angeles), and Southern California (with little coastline and including Fresno and San Diego).
Even if voters pass the plan in November and it clears the hurdle of congressional approval, the plan would have a long way to go.
Opponents of Cal 3 ask how the three proposed states would divide up the state university and retirement systems. It's also unclear how many representatives each state would have in the U.S. House of Representatives.
The last state to be created from an existing state was West Virginia, born in 1863 so that its citizens could join the Union while the rest of Virginia joined the Confederacy.
Content created by The Daily Caller News Foundation is available without charge to any eligible news publisher that can provide a large audience. For licensing opportunities for this original content, email licensing@dailycallernewsfoundation.org.