Today, Americans remember the men and women who lost their lives in service for the United States. Some people will gather with their loved ones in reverent celebration, while others will visit cemeteries and memorials to mourn.
Across the nation, there are memorials and museums constructed to honor our fallen countrymen and women. Here's a closer look at 10 of those special memorials where you can pay your respects.
1. Arlington National Cemetery is located in Arlington, Va., right outside of Washington, D.C.. The 150-year-old cemetery holds more than 400,000 graves of men and women who've lost their lives from Civil War battles to our present conflicts.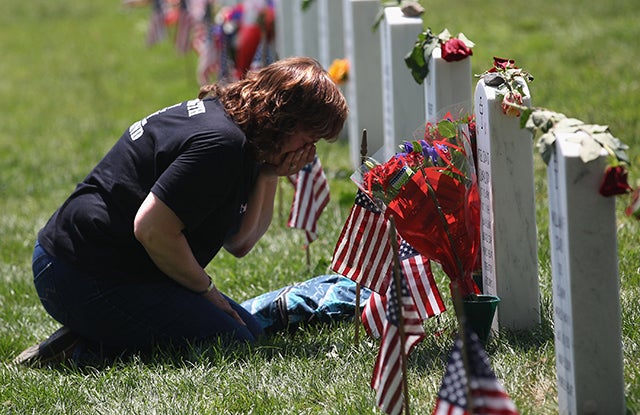 2. The Vietnam Veterans Memorial in Washington, D.C., has 58,300 names of fallen soldiers engraved into black marble.
3. The U.S.S. Constitution is the world's oldest commissioned naval ship still afloat. It was used in the War of 1812 and is now anchored in Charlestown Navy Yard in Boston.
4. The Korean War Veterans National Memorial, also in Washington, D.C., is comprised of 19 statues and honors more than 36,000 service men and women who died during the three-year war in the Korean Peninsula.
5. The World War II Memorial has two arches representing the Atlantic and Pacific, and 56 granite columns representing the 48 states and eight U.S. territories that existed pre-1945. In the center, an enormous pool with fountains symbolizes triumph and freedom. The memorial sits on the National Mall in Washington, D.C.
6. The U.S.S. Arizona Memorial in Pearl Harbor in Honolulu, Hawaii, is the resting place of 1,102 sailors killed during the attack on Pearl Harbor by Japanese.
7. National Memorial Arch, in Pennsylvania, was constructed to memorialize the arrival of Gen. George Washington and his Continental Army into Valley Forge.
8. The Marine Corps War Memorial is a replica of four Marines and one sailor lifting a flag in Iwo Jima, Japan, after a victorious battle in 1945. The bronze statue sits in Arlington, Virginia, and is dedicated to the "men of the United States Marine Corps who have given their lives to their country since November 10, 1775."
9. National World War II Museum in New Orleans, Louisiana, is the nation's only museum dedicated to preserving the legacy of World War II. It houses stories, uniforms and aircraft from the war.


10. The Liberty World War I Memorial was completed in 1926 in Kansas City, Mo., to honor soldiers who died in World War I and holds The National World War I Museum.
Where are you honoring our nation's fallen soldiers today? What is your favorite national memorial?
All photos courtesy of Newscom and Thinkstock.