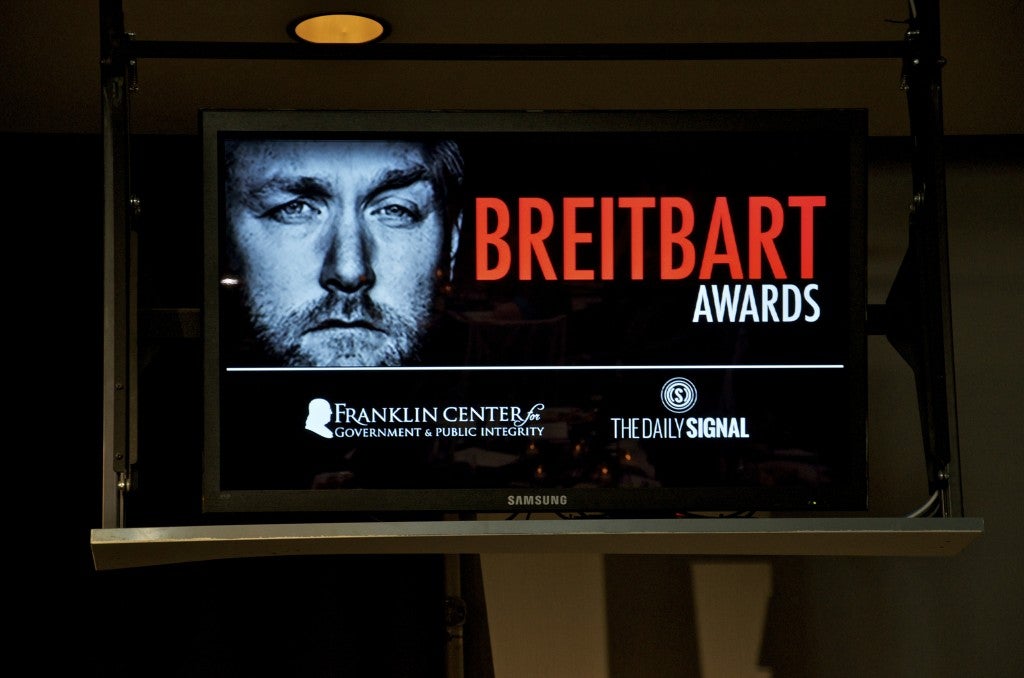 Journalists and bloggers from across the country gathered at the Newseum in Washington, D.C., this week to recognize the contributions of three individuals who exemplify the spirit of the late Andrew Breitbart.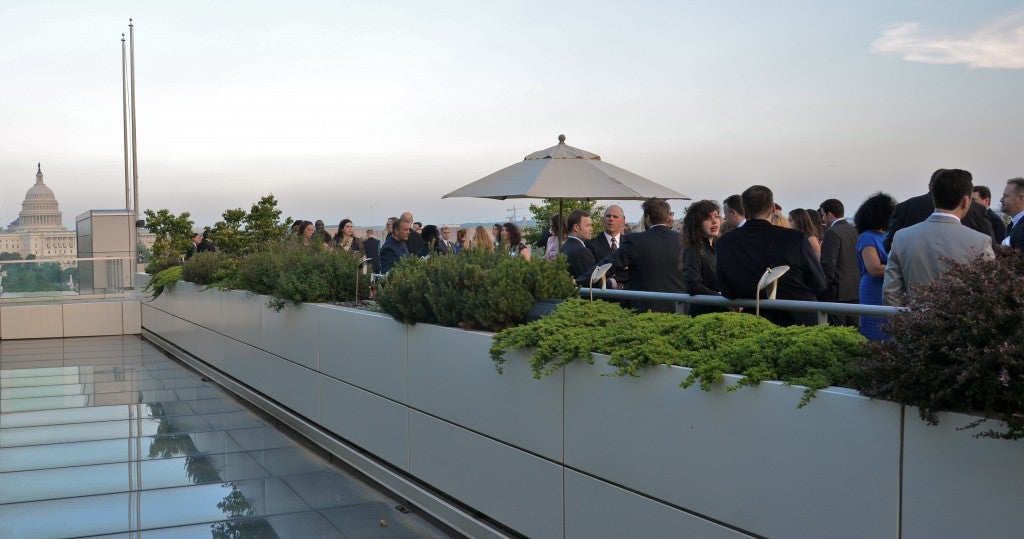 The Daily Signal, the soon-to-launch multimedia news site of The Heritage Foundation, joined with the Franklin Center for Government and Public Integrity to present the awards just blocks from the U.S. Capitol. This was the third annual awards dinner; previous events were held in Providence, R.I., in 2012, and Orlando, Fla., last year.
This year's Andrew Breitbart Awards recognized the work of Mark Newgent, editor of Watchdog Wire in Maryland, Jon Fleishman of Flash Report and Charles Hurt, a columnist for The Washington Times.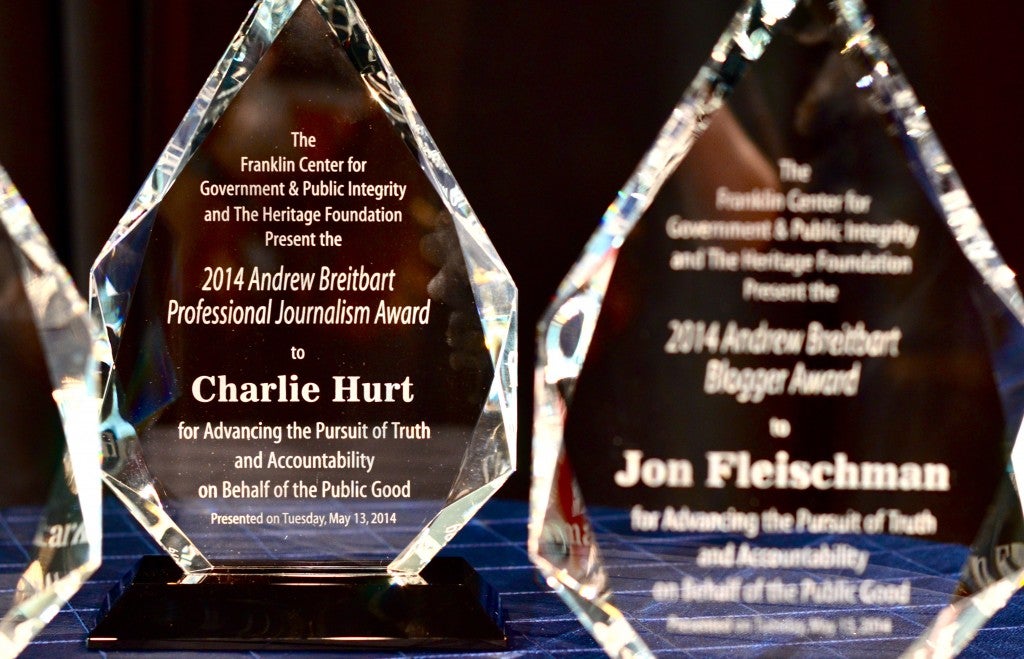 Pictured below are the three winners. From left: Rob Bluey, editor in chief of The Foundry and digital director at The Heritage Foundation; Alexander Marlow, editor in chief of Breitbart News; Charles Hurt; Jon Fleischman; Mark Newgent; and Erik Telford, Vice President of Strategic Initiatives and Outreach at the Franklin Center.
The awards dinner was part of a two-day Future of Media Summit in Washington, co-hosted by The Daily Signal and Franklin Center, a nonprofit journalism organization that identifies, trains, and supports journalists working to detect and expose corruption and incompetence in government at the state and local levels. Franklin Center President Jason Stverak (below) delivered remarks about the state of journalism in America.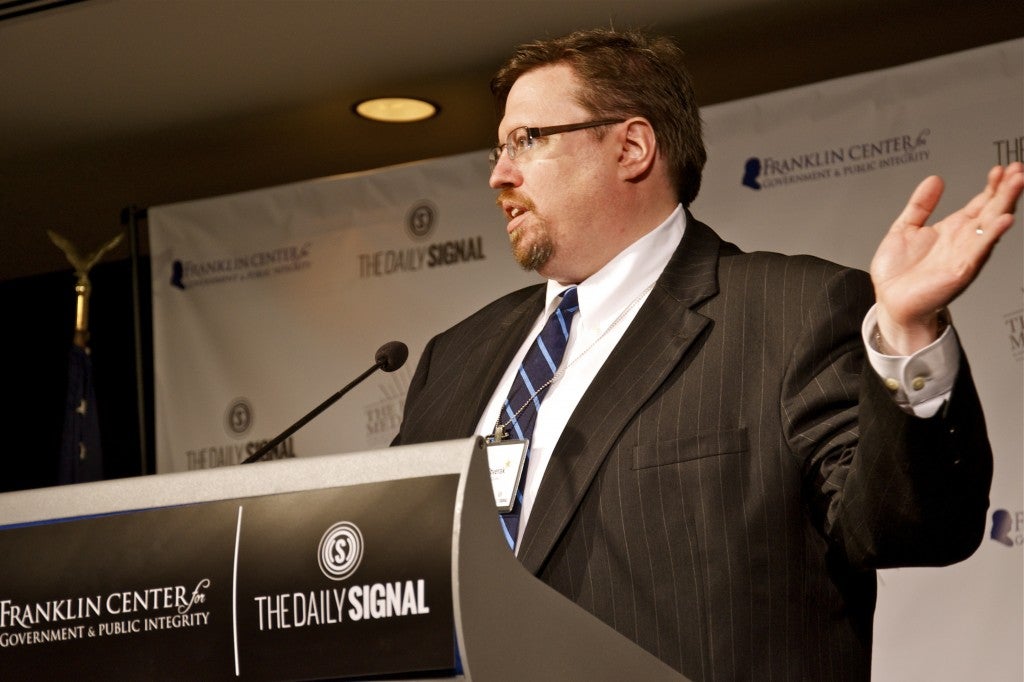 Fox News' Greg Gutfield was the keynote speaker at Tuesday's dinner. He is the author of a new book, "Not Cool: The Hipster Elite and Their War on You."
The dinner also included a tribute video to Breitbart, who died in 2012 and was often referred to as "the happy warrior" of the conservative cause. Breitbart was remembered for his contributions in media and celebrated as a dynamic leader of the conservative movement.
All photos by Jessica Hixon via the Franklin Center for Government and Public Integrity.