Planned Parenthood Gulf Coast, which serves southeast Texas and Louisiana, agreed this week to pay $1.4 million to the state of Texas, settling claims that one of the largest abortion providers in the Southeast had fraudulently overbilled the state's Medicaid program.
Texas Attorney General Greg Abbott's office stated that its investigation into the fraud allegations "revealed that Planned Parenthood Gulf Coast improperly billed the Texas Medicaid program for products and services that were never actually rendered, not medically necessary, and were not covered by the Medicaid program."
The Texas Planned Parenthood allegedly "falsified material information in patients' medical records" to bolster fraudulent claims for reimbursement.
Alliance Defending Freedom's recent analysis of state and federal audits of family planning programs suggests that in 12 states, Planned Parenthood affiliates overbilled Medicaid for more than $8 million. One federal audit of New York's Medicaid family planning program reported that certain providers, "especially Planned Parenthoods," had engaged in improper practices resulting in overpayment.
Despite mounting accusations of fraud, the organization that performs roughly one out of every four abortions in the U.S. has continued to ride the waves of taxpayer funding to annual surpluses. During its last reporting year alone, Planned Parenthood received over half a billion dollars in taxpayer government funding, all the while performing a record 333,964 abortions. To solidify its place as the top abortion provider in the country, Planned Parenthood announced that all local affiliates would have to begin providing abortion services starting in 2013.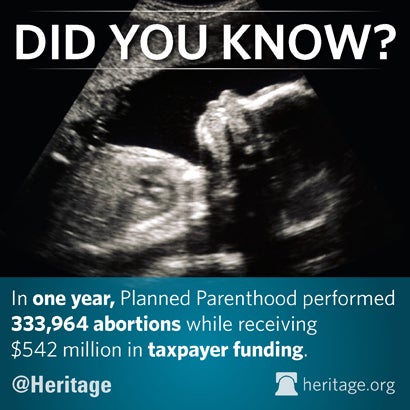 If allegations of fraud and its single-minded provision of abortion services isn't enough to question a continual stream of taxpayer dollars, Planned Parenthood's opposition to legal protections for infants born after botched abortions and the group's apparent willingness to abet the sex trafficking of minor girls should at least raise scrutiny of the organization's federal funding.
The organization also allegedly turned a blind eye to unsafe and unsanitary conditions in Pennsylvania and Virginia. State officials began investigating a Planned Parenthood in Delaware this spring after two of the clinic's nurses quit, claiming that the clinic kept unsafe, unsanitary conditions while performing what one report called "meat-market style of assembly-line abortions."
"Planned Parenthood is far less concerned with providing competent healthcare to women than it is with padding its bottom line with taxpayer dollars," says Alliance Defending Freedom in its report.
Yet this is the group that President Obama vowed to support, "fighting every step of the way." And this is the industry that stands to benefit from an influx of abortion funding under Obamacare.
Policymakers looking for organizations that are capable of self-funding more of their activities would do well to view Planned Parenthood's subsidies with a critical eye.