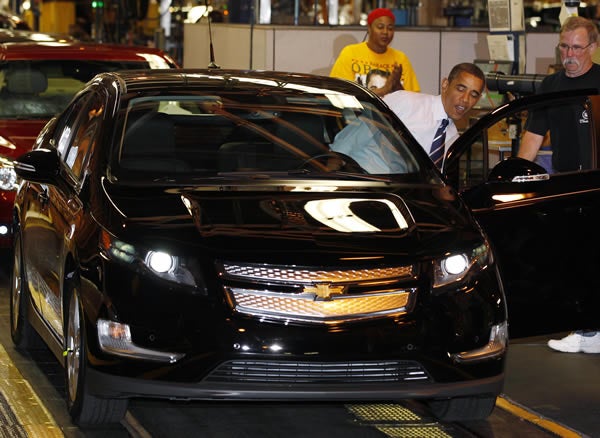 General Motors is halting production of the poorly selling Chevy Volt to accommodate a redesigned Chevy Impala. The impending four-week shutdown of the electric car represents yet another setback following news of disappointing sales for the second year in a row:
General Motors Co. (GM), the largest U.S. automaker, is planning to stop production for about four weeks in September and October at the factory that makes Chevrolet Volt cars, two people familiar with the plan said.

Sales of the plug-in hybrid sedan haven't met Chief Executive Officer Dan Akerson's projections this year. Through July, GM sold 10,666 Volts in the U.S., according to researcher Autodata Corp. Akerson had aimed for sales of 60,000 globally, of which 45,000 would be delivered in the U.S. In June he said sales would probably total 35,000 to 40,000.
GM says that it has planned for the production shutdown by building Volts ahead of anticipated demand while the car's production is offline — a different reason than earlier production suspensions this year tied to poor sales:
Malcho said the company "built ahead" with Volt production anticipating the shutdown so it will have enough vehicles on hand to meet demand.

The assembly line shutdown will begin Sept. 17 and continue through Oct. 15, as GM readies for production of the all-new 2014 Chevrolet Impala, the brand's flagship full-size sedan.

About 1,500 workers will be idled during retooling because the automaker builds multiple models on the same assembly line.

GM was forced to idle Detroit-Hamtramck Assembly for two stretches this year because of sluggish demand for the Volt.
The report said that GM expected August's sales to be the best ever for the Volt — at just over 2,500 units. That's about half of the number needed to reach the lower end of Akerson's U.S. sales projections for 2012, which have been abandoned for now.
But even slightly stronger consumer demand is buoyed by massive tax incentives and other government subsidies designed to make the electric vehicle — priced in the mid-$40,000 range — more enticing.
For example, according to Chevrolet.com, residents of Colorado can combine a federal tax credit of up to $7,500 with a Colorado state income tax credit of up to $6,000 — the most generous offer nationwide. For Californians, the federal tax credit can be combined with a state rebate of $1,500. In Tennessee, in addition to the state income tax credit of $2,500, residents will receive a free charging station.